Second Edition
Read all editions of the Review Round-Up
A message from the co-chairs – Lisa Paul & Bruce Bonyhady
Welcome to our second edition of the Review Round-Up.
This newsletter lets you know what we have been doing.
Earlier this month, Bruce spoke to the Economic and Social Outlook Conference on 'Where to now for the NDIS?'. Bruce talked about how support from the NDIS can change people's lives. He also talked about how we needed to get the NDIS working well for everyone.
One of our panel members, Dougie Herd, spoke to the ABC Life Matters program about some of the problems with the NDIS and why it needs to change. You can listen to it on the ABC website.
Over the last few weeks, we have continued to meet as a panel to plan our work. We have been meeting with participants and Disability Representative Organisations. You can read more about these meetings below.
We have also opened up our 'Have your say' submission process. This is where you can let us know about your experiences with the NDIS and how it can be improved
We look forward to hearing more from you all in the coming months.
Best wishes
Bruce and Lisa
Where are we up to?
We recently met with NDIS participants, their families and carers, and disability organisation representatives in Canberra on 21, 22 and 23 November 2022.
The first day was dedicated to hearing from participants and their families. We would like to warmly thank everyone who shared their NDIS experiences with us – both the good and the bad.
On day two and day three, we heard from disability organisation representatives. We really appreciated their advice on how to improve the NDIS for everyone who needs it now and in the future.
These events were just the start of the Panel's promise to listen and learn from you. There will be more opportunities to meet with the Panel and have your say over the life of the review.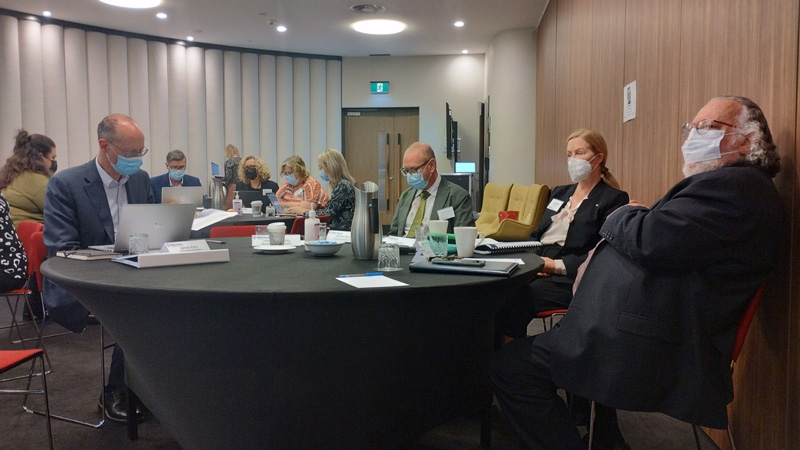 Having your say
We are very excited to open the 'Have your say' section of our website. This part of the website gives you lots of different ways you can have your say. This means you can now tell us about your experiences with the NDIS to help inform our work.
You can have your say at any time during this Review. But at the moment we are planning our work for next year. So we would like to hear from you as soon as possible. Anything you can tell us to help us plan our work for next year would be useful. It doesn't have to be long.
We want to know what is most important to you.
Please remember that this is only the first chance to have your say – there will be lots more chances next year.
You can tell us as little or as much as you like and you can tell us in the way that best suits you. Some of the ways are:
write us a note
make a video
send us a recording
answer some questions.
To find out more, go to our have your say page.
We also encourage you to register to receive updates from us.
Word on the street
We want to hear from you!
The NDIS Review is all about how we can make the NDIS work better for you.
Please share your stories with us – it would be great to know how the NDIS has worked well for you, and made a difference in your life but importantly your ideas for how it could work even better.
We aim to feature one story per Review Round-up from someone on the ground experiencing the NDIS. If you would like it to be your story, email us at: contactus@ndisreview.gov.au 
Contact us
Contact Us if you have any questions, issues or comments - we will get back in contact with you asap.
Subscribe
Subscribe to our mailing list and be kept informed including on how you can contribute to the Review's consultation process.
Find out more
Visit our website www.ndisreview.gov.au to find out more about the Review and its progress.